Deliver your sample to the detector without extra flow path and absorption
Why not have the best in high-performance UHPLC analysis?
Our UHPLC is not only advanced in pressure-resistant, but also maximizing the performance existed in your column.
That's NANOSPACE NASCA2
Pursuing the ultimate in liquid chromatography analysis
Separation in the column, detection in the detector, NANOSPACE NASCA will make them the best.
The ultimate separation at ultimate sensitivity
Osaka Soda has pursued fast speed, trace amount, and high-sensitivity in the development of its semi-micro column HPLC NANOSPACE. What we most focused are how best to minimize the dead volume for reducing the dispersal, minimize any absorption, and increase sensitivity.
NANOSPACE has been continually evolved in response to the demands of our customers to make the birth of the ultimate UHPLC NANOSPACE NASCA2.
Now it's your turn to experience the ultimate in analysis with the sophisticated design of NANOSPACE NASCA2.
Features
No extra flow path
Delivers your precious samples directly to the column.
The auto-sampler flow path switching valve is a source of problems such as sample absorption and carry-over in conventional systems. Osaka Soda revolutionary design replaces the conventional injection port with a flow switching valve. Straight Injection Technology™ is based on a completely new concept, allowing delivery of the sample directly to the column without absorption.
The design adopts the column-direct type of connection guard cartridge column to maximize the advantages of low dead volume design available with Straight Injection Technology™. Select to suit your existing analysis column.
Product range
Thanks to the directly connection design of the guard cartridge column, the conventional influence from the dead volume by the cartridge column could be minimized.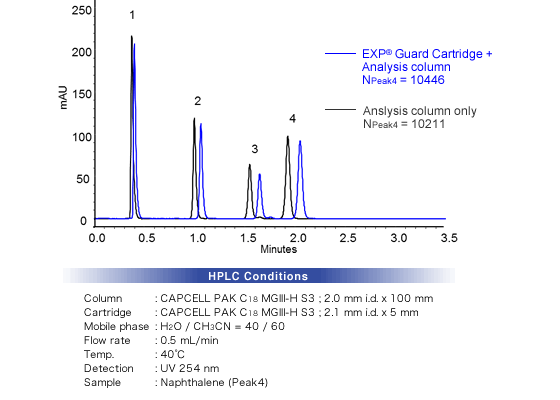 Guard Cartridge Column
A guard column directly connecting with a analysis column.
Product No.
Solid phase /
Withstand
ressure
Functional group
Particle size
I.d
Length
3641
CAPCELL PAK IF2 / 100 MPa
C18
2
2.1
5
3642
CAPCELL PAK MGIII-H / 50 MPa
C18
3
2.1
5
3643
CAPCELL CORE C18 / 60 MPa
C18
2.7
2.1
5
3644
CAPCELL CORE C18 / 60 MPa
C18
2.7
4.6
5
3645
CAPCELL CORE AQ / 60 MPa
C27
2.7
2.1
5
3646
CAPCELL CORE PC / 60 MPa
PC
2.7
2.1
5
3647
CAPCELL CORE PFP / 60 MPa
PFP
2.7
2.1
5
3648
CAPCELL CORE ADME / 60 MPa
ADME
2.7
2.1
5
3649
CAPCELL CORE MP / 60 MPa
C18
2.7
2.1
5
3650
CAPCELL CORE WP / 60 MPa
C18
2.7
2.1
5
Holder for EXP® Guard Cartridge
The Holder is not attached with the EXP® Guard cartridge. Initial purchase is necessary
Product No.
Product Name
3640
Direct-connector Holder
Ttitanium-hybrid ferrule x2, Hand tight nut x1
3624
Ttitanium-hybrid ferrule for replacement, 5 cps/PK
3625
Hand tight nut for replacement, 5 cps/PK
EXP® is the registered mark of Optimize Technologies, Inc.
Close
Accuracy by minimizing system volume
Minimizing system dead volume.
By refining the technology from the development of the semi-micro column HPLC, and by integrating the entire system, Osaka Soda has succeeded in reducing dead volume to a level beyond that of previous equipment.
To use a core shell column, use a small particle diameter column, and perform detection with MS. Dead volume of the equipment has been minimized to ensure rapid and high-sensitivity analysis. All possible measures have been taken to ensure that the sample is delivered to the detector in the best condition.
Separation efficiency
Pressure resistance is 70MPa.
This equipment maximizes column capacity through improved efficiency in separation using high flow rates with core shell and small particle diameter columns. Use your existing column under the best conditions.
NASCA2 - designed for you and the column you use.
Contemporary analysis
In terms of both chromatography and sampling, designed for performance in high-throughput analysis for everything up to and including solution feed, injection, temperature control, and plumbing.
All in one
All you ever needed in HPLC equipment.
Osaka Soda brings you the ultimate in one piece of equipment.
Osaka Soda continues to evolve NASCA2 in response to the voices of its users.
As an aside - Why NASCA2?
What comes to mind when you hear 'NASCA'?
Almost certainly, you think of the geoglyphs at Nazca in Peru.
Are you aware that these geoglyphs contain a glyph referred to the 'Hummingbird'?
The form in which the sample is delivered directly to the column with the new Straight Injection Technology™ injection system in NASCA2 resembles the line of the beak of the hummingbird.
We believe that the drops of solution that we handle with this equipment resemble the nectar droplets of the hummingbird. By assisting in your research and development, in your development of new medicines, we believe that we are assisting in your efforts to improve health and safety, and to protect the global environment.
Specifications
Product No.
5200
Pressure Capacity
70 MPa
Power
AC 100-240 V, 50/60 Hz, 750 W
Dimensions (unit)
417(W)×669(H)×545(D) mm
Weight (unit)
70 kg
Software
OpenLAB EZChrom (ver. A.04.06 or later)
Xcalibur®(ver.1.4 or later)
Analyst®(ver.1.4.2 Hotfixes to July 2007 or later)
Autosampler
Injection system
Straight Injection Technology™
Carryover Spec.
Less than 0.001% (in specified test)
Sampling capacity
480 samples:50µL, 250µL PP Vial Holder x 2
200 samples:2mL Holder x
1536 samples:384-well plate x 4
384 samples:96-well plate x 4
Syringe Volume
100µL, Gas tight type
Injection Volume
0.1~20.0µL, 0.1µL (Option: 80.0µL)
Sample Cooling
4~20 °C(Variable setting)
Injection Precision
RSD < 1% (1µL was injected)
Needle rinse
Organic solvent (Option:Ultrasonic cleaning)
Flow rate for cleaning pump
3 mL/min
UHPLC dual-gradient pump
| | |
| --- | --- |
| Pumping System | Dual-plunger Parallel configuration |
| Drive System | Pulse motor driven constant flow rate /constant pressure system |
| Flow Rate Range | 0-2000µL/min |
| Flow Rate Precision | Less than 0.3% (specified test) |
| Flow Rate Accuracy | ±2%(Specified test) |
Degasser
| | |
| --- | --- |
| Drive System | Gas permeation through fluoroplastic tube |
| Maximum Flow Rate | 3 mL/min |
| Degassing Capacity | 1.5ppm (specified condition) |
| Pressure Drop | Depressurization pump |
| Internal Volume | 0.3 mL |
Jacket Heater
| | |
| --- | --- |
| System | The column heating system by heating wire with electronic control |
| Temperature Setting | (RT+10)~60 °C |
| Temperature Accuracy | Within ±1 °C of setting temperature |
| Temperature Precision | Within ±0.2 °C |
*The naming of NASCA is approved by Peru.
*Appearance, specifications are subject to change without notice Please note