Polymer–based column of particle bonded with quaternary ammonium for sugar analysis
We deliver two types of polymer-based column with strong anion exchange for the high sensitivity analysis of saccharide by pulsed amperometric detector (PAD)
Saccharide is classified into monosaccharides, disaccharides and polysaccharides; and while it dissolves well in water, the number of isomers, wide range of molecular weights and lack of chromophore make high sensitivity analysis difficult.
The SUCREBEAD column is developed for the realization of the high sensitivity sugar analysis by pulsed amperometric detector (PAD). We propose sugar analysis by combining SUCREBEAD and PAD for the high sensitivity analysis of carbohydrates.
Features
Retention of sugar by ion-exchange mode under strong alkaline conditions
SUCREBEAD column is specified for sugar analysis packed with an anion-exchange particle bonded with quaternary ammonium groups to the base material of styrene-divinylbenzene copolymer.
Hydroxy groups of sugar release hydrogen ions and behave as an acid in a strongly basic environment. Sugar converted into anions can be separated by ion-exchange chromatography.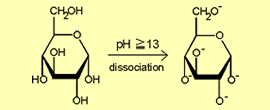 High sensitivity detection of unmodified saccharide
The ionized saccharide skeleton generated under a strongly basic environment presents an electrochemical activity that enables detection by an electrochemical detector of a particular design. The combination of SUCREBEAD and pulsed amperometric detector (PAD) makes high sensitivity analysis of unmodified sugar possible.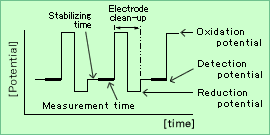 Types available for different-sized saccharide
SUCREBEAD I excels in the analysis of monosaccharides and disaccharides, and SUCREBEAD II excels in the analysis of disaccharides, oligosaccharides and polysaccharides. Choice of column depends on the size of sugar to be measured.
Fig. 1

Analysis of monosaccharide
Close
Fig. 2

Analysis of polysaccharide (inulin)
Close
Physical properties
SUCREBEAD II
Base resin
Particle
diameter
(µm)
Exchange
capacity
(meq/g)
Functional
group
Range of
acceptable pH
Styrene divinylbenzene copolymer
7
0.7
Quaternary ammonium
group
2.5〜14
SUCREBEAD I
Base resin
Particle
diameter
(µm)
Exchange
capacity
(meq/g)
Functional group
Range of
acceptable pH
Styrene divinylbenzene copolymer
7
2
Quaternary ammonium
group
1〜14